The Most Rev Myles McKeon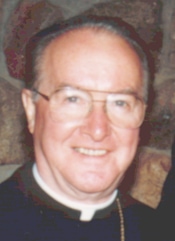 Myles McKeon was born in Drummin, County Mayo, Ireland on April 3rd, 1919 to John and Bridget McKeon.
Upon completing his schooling, Myles was accepted into All Hallows College in Dublin, a seminary run by Vincentian priests that specialised in preparing students for foreign missions. After 7 years at All Hallows, which included 3 years spent at University College, Myles was allocated by the seminary to the Archdiocese of Perth.
Myles spent his first four years in Maylands Parish, before being transferred to the Cathedral as an Assistant Priest. After two years in this role, he then spent eight years working in the roles of Catholic Missions, Catholic Migration and Welfare.
On the fifteenth anniversary of his ordination to the priesthood, Myles received a letter from Rome appointing him Auxiliary Bishop of Perth. He was Consecrated a Bishop on September 12, 1962. Very soon after, Bishop Myles and Archbishop Goody flew to Rome for the Second Vatican Council.
Bishop Myles was appointed Second Bishop of Bunbury on March 6, 1969. He is remembered for his many initiatives in the Diocese, including:
Establishing the Busselton Catholic Youth Camp
Bringing Carmelite Sisters from the Philippines to establish the Carmelite Monastery in Gelorup
Bringing the Salvatorian Priests from Poland to Esperance
Amalgamating Mercy College for Girls and Marist College for boys into Bunbury Catholic College.
Establishing the Diocesan Development fund
Establishing the Permanent Diaconate
Establishment of Centrecare.
Bishop Myles retired as Bishop of Bunbury in 1982 due to ill health, but continued to work in the Diocese in the role of Director of the Propagation of the Faith.
Bishop Myles McKeon passed away on May 2, 2016 at the age of 97.
His funeral was held at St Patrick's Cathedral, Bunbury, where his body now lies in the crypt.