Message from Bishop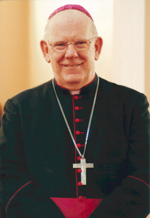 The Catholic Diocese of Bunbury welcomes you. This website serves as a means of communication for our parishes, scattered across the South-Western portion of the State of Western Australia.
Ours is one of the most rapidly growing dioceses in the country. It includes some of the most rapidly increasing population centres in Australia.
I hope this website will be of service to all outside the Diocese who seek to learn something of our Catholic life.
God bless
The Most Reverend Gerard Holohan
Bishop of Bunbury
Recent Pastoral Letters
Latest News & Events
The SW Branch of the Knights of the Southern Cross cordially invites browsers to participate in a Special Easter live webinar on Friday 29th April 2022, at 7 PM WAST.