The Most Reverend Peter Quinn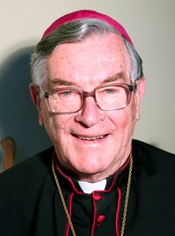 Peter Quinn was born in Highgate Hill, Perth on February 17, 1928 to Jeremiah and Aileen Quinn who met in Kalgoorlie where both their families had moved for the Gold Rush. Jeremiah had come from Ireland, and Aileen from Victoria.
Peter attended Sacred Heart Primary School, and Christian Brothers College, Highgate before being accepted as one of the 20 foundation students when St Charles Seminary opened in February 1942.
In 1947, Archbishop Prendiville asked Peter to go to Rome to continue his studies at Propaganda Fide College. It was here that he was ordained to the priesthood on December 21, 1950.  Fr Peter stayed in Rome for another four years to complete his studies in theology and a post graduate degree in Canon Law.
In February 1955, Fr Peter took up his first appointment in Sacred Heart Parish, Highgate Hill, where he spent 5 years as parish priest.  This was followed by an appointment as Secretary to Archbishop Prendiville until 1965, when he was appointed to the new parish of Mirrabooka.
Fr Peter was appointed as Vicar General of the Archdiocese of Perth in 1968, and as Auxilliary Bishop of Perth in 1969.
After 13 years as Auxilliary Bishop, Bishop Peter Quinn was installed as Third Bishop of Bunbury on August 4, 1982. Bishop Quinn spent 18 years in Bunbury, and resigned on December 20, 2000.  In retirement, he continued to serve the people of the Perth Archdiocese until his death on August 23, 2008.  Bishop Quinn's funeral was held at Bunbury Catholic College on September 3, 2008 and he was buried in Bunbury Cemetery as the new St Patrick's Cathedral was not yet complete.
Bishop Peter Quinn's body was interred into the crypt of St Patrick's Cathedral on August 29, 2011.