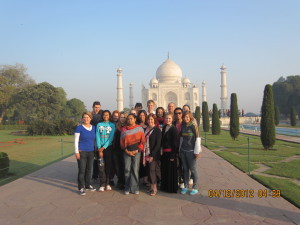 After a full year, the day finally arrived when we were to leave Australian soil and begin what most of us would call one of the best experiences of our lives. One of the group; Louise MacNish shed some light on what India meant for us, "as students studying year twelve, our lives revolved around ourselves and educational success. The India Immersion Trip opened our eyes to possibilities that we could never have imagined. Being immersed in Indian culture helped to re affirm our values and expand our views on life. The world now holds endless possibilities and India has ignited our passion to help others."
Although to most of us the lead up to the trip seemed pretty insignificant compared to the actual adventure itself, it did play an important role in group bonding and raising funds. The occasional Tuesday night meeting became our little focus group when ideas were put forward regarding what types of fundraising we would do.
We started out doing sausage sizzles, wood raffles, morning teas and snacks after mass, before we received an offer to wait tables at the Parade Hotel and earn some money for our services. This was one of the first steps in bringing our group closer together and it attracted some very pleasant surprises such as a wealthy business man who we happened to be serving, coming over and making a large donation to the cause. Our first organised event was the Quiz Night, which was held at the BCC Hall, and was a great success. Everyone had a great time, waiting on tables, being "officials" and maybe even picking up a few useless facts on the way. Our second group bonding session was at the home of Sabrina Haines, the chief organiser and leader of the group. She and her family had been to India before and showed us some of their photos and talked about what we would be likely to experience. We then shared as a group how we felt about what we were about to experience, and discussed strategies on how we would deal with shocking and confronting emotions. We got to see another side to each other and it drew us closer together as friends.
Our second big event was the Bollywood Night, which had a tremendous amount of organisation go into it. The BCC dance troop put on a spectacular show and the chefs cooked up a traditional Indian 3 course meal. There was a raffle which consisted of many goods donated from stores in the South West who were keen to support the cause, prizes for those who dressed up and a dance off. All in all it was a fantastic night that gave us a good break from the tedious study for the upcoming exams.
A special thank you goes out to the Catenians, who donated to each student to support the trip. We had the pleasure of meeting representatives from the club in person and talking to them about what we would be doing on the trip. Also to a big thank you to Val Mahon, for her contribution in making scarves, clothes, hats and other fabulous garments that were sold and the money donated.
Thank you to everyone who helped fund and support the trip, including parents, Bunbury Catholic College and the Catholic Diocese.
The adventure started like almost every overseas journey, a group of mismatched students and adults got onto a plane and departed Perth Airport. Unlike most travelling groups however, ours was different; we knew what we were going to do, but we had no idea what to expect and how much we would be changed by the experience. Our first touchdown was at Singapore Airport where we had a six hour stopover before continuing onto Delhi. In a feeble attempt to remain calm we raced around the airport moonwalking on travelators and taking in everything the airport had to offer. Before long we were back on a plane and off to India. We arrived in Delhi and were transferred to a domestic flight to the city of Kolkata. When we arrived the first thing that hit us was the smell; aside from the fact that we had just been on a plane for almost the whole day, it was the first indication that we were in a foreign country. The smell wasn't bad it was just different.
The transfer to our hotel in Kolkata meant that we were able to experience our first of many Indian bus rides. The traffic in India is something that those who haven't seen it, would find hard to comprehend. There are no indicators or rules on overtaking, it is just a jumble of cars all beeping their horns at each other and trying to fit into whatever space they can find. Somehow amidst all this chaos there are no accidents and everyone moves on with not the slightest hint of road rage.
The next morning we were up early and off to the 6 am Mass at the Mother House. We arrived to see every nun from the area dressed in their white and blue religious habits. We sat next to the other volunteers who were at the Mass and our own priest Father Edwin, who had come on the trip with us, took part in the Mass. For Kate Fitzgerald it was an experience that she thoroughly enjoyed: "Attending 6am Mass at Mother House, with the Sisters and other volunteers, was one of the highlights of the trip. We were in the middle of the chaos and noise of Kolkata, yet inside Mother House there was always a sense of calm and serenity". After that we were individually assigned to one of two orphanages: Daya Dan or Shishu Bhavan. The majority of us went to Daya Dan and were immediately put to work, being sent to do washing, changing, feeding, whatever it was that we could do to help. The children had different levels of disabilities, some physical others mental, but they were all treated with respect and love.
That afternoon we were free to go exploring the street markets of Kolkata. Everyone had an amazing time, getting into the true Indian spirit, bartering and trying to ignore the persistent beckoning of shopkeepers. The whole place was full of vibrant colour and although there was garbage and filth all around, everyone was happy. Liv Nolan, an ex BCC student who was part of the group, found this remarkable considering how unhappy Australian people are; "One thing that surprised me was that I wasn't overwhelmed with sadness because these poor people and especially the nuns and the orphans were some of the happiest people I have met. They seemed so content and appreciative of what they had and this really touched me and made me want to apply a similar outlook to my own life."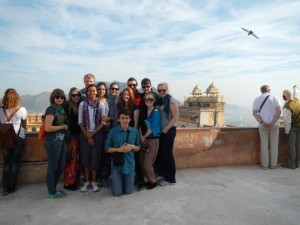 The next day was the most tiring of the whole trip but also the most rewarding. Alex Ayton shares her experience: "the second day we spent working with the children at the Daya Dan house involved taking them out for a trip to a theme park. We arrived at Daya Dan at about eight in the morning, and each of us volunteers (or aunties and uncles as we were called by everyone) was assigned to a child to be our buddy for the day. Once two buses were filled with children, aunties, uncles and sisters we began the two hour drive to the park. My "buddy" Neesha chatted happily to her friend in the seat behind me. We spent about five hours at the park playing games with the children, taking them on rides, and enjoying hearing the sisters laughing joyfully as various contestants rose to face the bucking bull. All of this said, this day was the hardest one I experienced on the trip, as it was physically, mentally and emotionally draining. Having full responsibility for these children for the day was daunting as many of the children had disabilities and required our attention 100% of the time. However it was also the most rewarding day I experienced; the laughter I shared with Neesha and the smiles on everyone's faces made all the discomfort I felt seem trivial. I learnt a lot about myself on this day, about my capabilities and limitations, and also the ability to find joy in the simple pleasures of smiles and laughter, one I feel is so very often overlooked in western society." Jarrod Emmott and his toddler, Prince grew very close over the course of the day: "I had a connection with Prince, and I grew really attached to him. He was fun and always smiling which made him a joy to look after, if it were possible I would have taken him home with me." One of the highlights of the day was Jarrod being asked to continuously have rides on the bucking bull because the nuns thought it was hilarious. "They kept giving me their tickets and laughing as I tried to stay on the bull. Watching a tall blonde kid ride a mechanical bull isn't something they see every day so I was glad to put on a show and see them smile". After a long day of working we were finally packed up and got on the bus home. The fun didn't stop there as the local Indian radio station played some pop songs that everyone got up and danced to in the aisle. "Dancing for me was a great way to connect with the kids, no matter what nationality you are or what language you speak, everyone can dance and it brings a smile to the face of everyone" said Liam Reeves. That night we were all exhausted and had time to reflect on the work that we had done. It had sunk in that life wasn't as easy in these places as it is in Australia, and it was a stepping stone to understanding another culture as we continued to develop as a group and as individuals.
For the next few days our routine was similar; we would work the morning in the orphanages and have the afternoon to explore the streets of Kolkata. On the last day we attended the morning Mass despite many of us having picked up sickness over the week. On the last day working in the orphanage all the volunteers and nuns sang a song that had many of the group on the verge of tears. "Even though we had only known them for such a short time it felt as though we were leaving behind a friend we had known for years. It was a goodbye, thank you and 'we will miss you' all in one simple song" said Jared Ross, reflecting on that moment. We had the song sung to us again at the orphanage but this time by the children. Alana Williams who was working at Shishu Bhavan conveyed what she felt after working with the children; "I believe that we have all brought home memories of our time at the orphanage that have influenced and deeply moved us. For me, it is the afternoon I spent with a girl with quite severe cerebral palsy who seemed to be in a constant state of laughter, and whose smile conveyed everything she couldn't speak aloud. Her happiness was inspirational".
From Kolkata we flew to Delhi and then straight onto Amritsar, where we went to see the Golden Temple. Our guide gave the headscarves to the girls and bandanas to the boys to cover their hair and we washed our hands and feet before we entered the temple complex. The whole complex was incredible, but the main attraction was the standout; a huge golden temple (hence the name) in the middle of an enormous pond. The line to get in was very long but it was well worth the wait because once we were inside there was a real sense of calm. You could feel that you were in a place of extreme reverence, where everyone was treated as an equal. Cameron Ayre found this particularly astounding; "the reverence was overwhelming, most obvious in people spontaneously dropping to their knees to kiss the floor. It was a strong spiritual experience, which left us all amazed, from the soft music, to the constant prayer and readings, to the sheer amount of gold used in constructing the temple." We were able to touch the temple walls which were plated with gold, and visit the kitchen where hundreds of people were gathered to receive free bread, curry and tea.
The community kitchen was designed to uphold the principle of equality between all people of the world regardless of religion, caste, colour, creed, age, gender or social status. Everyone is welcomed to share a meal; no-one is turned away. Amazingly the kitchen is run entirely by volunteers with all the food donated. It is open every day of the year and feeds up to 80,000 people each day. This is a truly incredible sight and proves that with passion and drive you can make anything happen.
We then were driven to the Wagah Border where we witnessed the changing of the guard. It was an incredible sight to be able to stand in one country and see another, as well as watching all the girls from the group get up and dance to 'Jai Ho' with the Indian women. The changing of the guard was basically a very competitive shouting competition with marching in between and we walked out of the stands seeing the pride of both India and Pakistan. Liv Nolan adeptly stated "India is a country of fortune and misfortune; it's a country filled with love and happiness and also pride. It was amazing to be able to distinguish the vast differences within one country"
From Amritsar we were then transferred to Agra, which involved a painful six hour bus ride and we had some interesting experiences watching as trucks travelled directly toward us only to miss us in the last few metres. In Agra we visited the Taj Mahal, which is exactly like it is on post cards and photographs. Lauren Fitzgerald and Jarrod Emmott stood there and studied the tomb "this is an architect's dream; the marble is cut to perfection and you can see how much work has been put into building it". Inside the Taj Mahal we were once again faced with that feeling of calm and serenity as though in the chaos that is India, there is still a level of peace that exists in the people and a respect that remains unspoken. From there we ventured to the Red Fort, and had a crammed history lesson about all the rooms and who they belonged to and how the whole structure was designed.
The next six hour bus ride took us to Jaipur where we travelled through the 'Pink City' and had an elephant ride up to the Amber Fort, which had an incredible view of the mountains and village below it. We then explored other areas, being proper tourists and witnessing Indian culture.
Our last night in India was an emotional one; we all expressed thoughts about what our favourite moments of the trip were and things that could be improved. We discussed the prospect of a group coming back again in 2013 to spend even longer in the orphanages, because we all agreed that it was the best part of the experience. "New friendships were forged in India and old ones were strengthened. I wouldn't have missed this opportunity for the world and I encourage every student who is thinking of participating in future years to step forward and volunteer, a decision that you will not regret" said Alana Williams, making it clear that she hopes the India Immersion Trip will continue into the future for other students to experience what we did. Aasha Haines was one who came to realise that what we experienced not only gave us insight into another country and culture, but also helped us to grow closer to our spiritual self. "The feeling of hope and love that emanated from the children is especially hard to write down in words. It gave me a sense of faith; that God does indeed work in mysterious ways and that these children were not handicapped or disabled they were blessed with the innocence of a pure soul."
On behalf of the India Immersion group I would like to thank all those who gave us their support and the parents who helped us get there in the first place. A huge thank you is in order for Sabrina Haines, who was chief organiser and made sure everything was in order in India. She used her knowledge and experience to make sure that everything went smoothly and we didn't get into trouble. Although she didn't come with us, Viv McKenzie played a huge part in organising the trip and for that we are very grateful. Our parish priest, Father Edwin was also a delight to have on the journey as were Pam MacNish, Ian Haines, Peta Nolan and Maria Fitzgerald. It just goes to show what goodwill, hard work and a fantastic idea can lead to and the amazing things that can result.