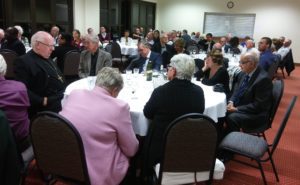 'The Holy Spirit is raising new life in stony deserts', stated His Grace Archbishop Emeritus Barry Hickey during his address at a highly successful dinner in Bunbury on Friday April 20th.  Sponsored by the KSC's South West Branch and held at the Cathedral Parish Hall, the event attracted 96 guests including  Bishop Gerard Holohan, Bishop of Bunbury Diocese, local clergy and religious, representatives from Southern Cross Care (SCC) as well as parishioners from Bunbury, Dardanup, Leschenault and Manjimup parishes.
Addressing the topic, 'The Church faces the modern world – what is expected of us today', His Grace guided his attentive audience through the issues and challenges within Church and society that hamper its evangelising mission. Within the Church he cited sinfulness, child abuse, injustice, indifference and a lack of zeal, including too few active members with too many Catholics too comfortable and complacent about their lives. Opposition to Church teaching by some elements in the Church compromised Catholicism and diluted its evangelising efforts. 'We should reach out with the Good News to the 80-90% of our fellow baptised non-practising Catholics', he urged.
Obstacles in society to accepting the Good News include our comfortable lifestyle, rejection of Christian teaching on marriage and human sexuality, the increased percentage of society that claims 'no religion' and the rise of atheism, evident by the promotion of "gender theory" in the education system all aided by a generally anti-Christian media.  In some parts of the world there is active persecution of Christians.
'However', His Grace said, 'there is evidence of recovery, especially in other parts of the world, as grassroots movements are appearing and, like the early Church, domestic churches are being formed to meet the challenges of active persecution and oppression'.
The task for us then is to remember the special role of the laity in this recovery process, especially by renewing its familiarity with the Bible, strengthening family culture, its rituals and prayer.
Following His Grace's address, Brad Prentice, Chairman of the Southern Cross Care board, pointed out that SCC, sponsored by the KSC, is a not-for-profit organisation which has been delivering aged care services to West Australians for over 50 years. He introduced Carole Bain, SCC's General Manager Service Delivery, who gave a brief outline of the organisation's extensive portfolio of aged care services, including retirement villages, residential, carer respite and home care.
The Southern Plus home care services, available throughout the southwest and managed from the Busselton regional office, offer a complete range of in-home and social support tailored to needs to help its clients remain in their homes to live life to the fullest.  Arranged by dedicated case managers, Wellness Partners and Support Workers, this support can include dressing and grooming, shopping, cooking meals, gardening as well as health services like podiatry and nursing.  Southern Plus in the Southwest also has a social centre based in Busselton, where the over 65's can come and socialise, take part in many individual or group activities or go for short day trips with other like minded people. 'Think Southern Cross Care for all aged care support', was Carole's mantra.
For more information about Southern Plus in-home health and wellness services call 1300 000 161.
Peter Finlayson