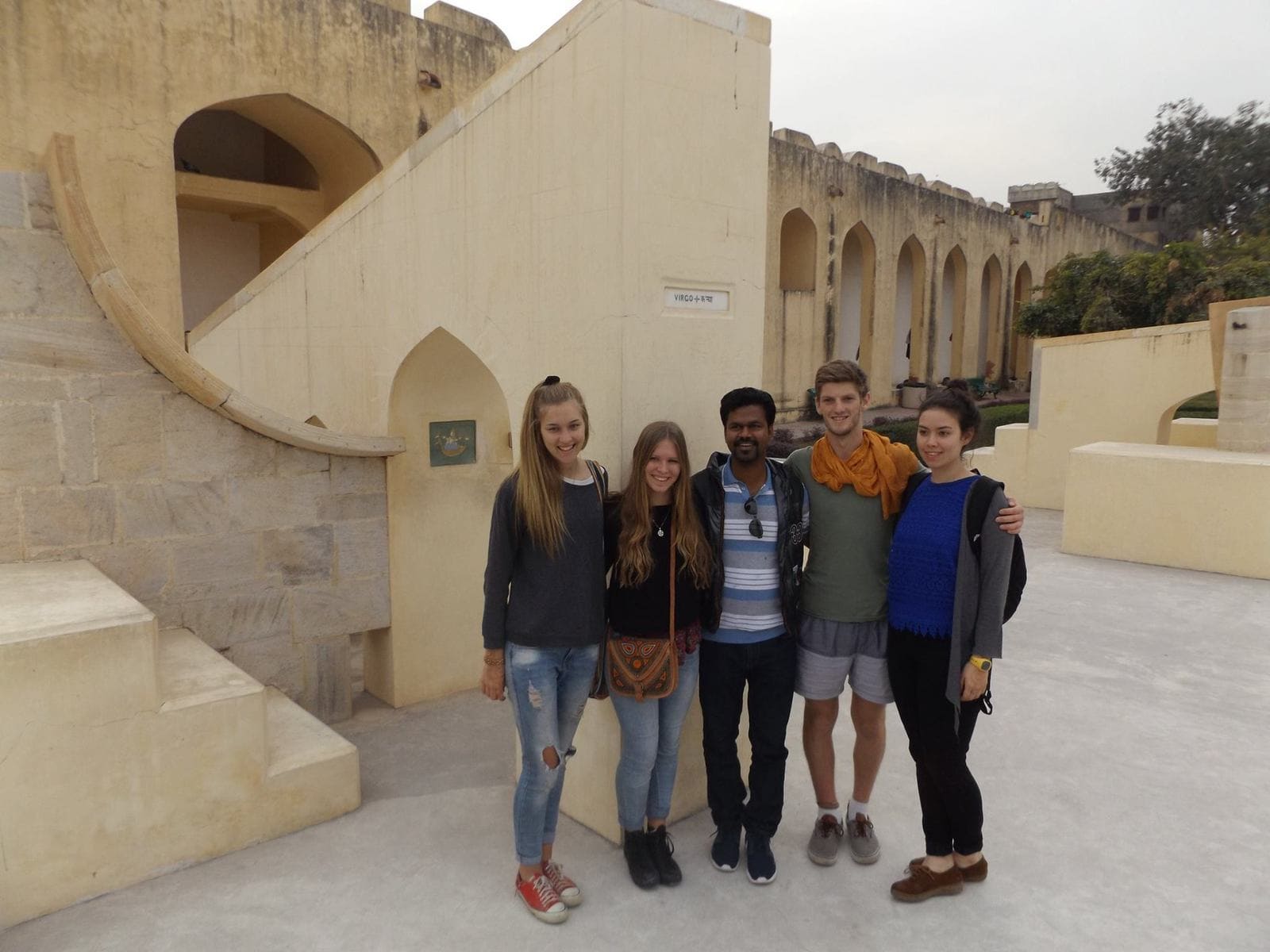 On the 6th December 2014 a group of 19 people embarked on a journey that would change their lives forever.  They were part of an initiative offered to the young people between the ages of 16-19 to have an Immersion Experience in India.  The trip was an idea formed by a mum who was interested in sharing her experiences with the young people about the realities of the "haves" and "have nots".   A major portion of the trip was devoted to volunteering their service to the poorest of poor in Kolkatta, India.  It was to support the work started by a young Albanian nun whom we all know as Mother Teresa.  She was founder of the Missionaries of Charity nuns in India.  Her work consists of caring for the poor, disabled and malnourished people of Kolkatta.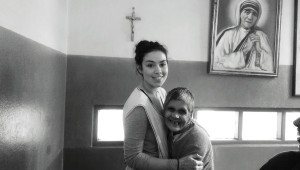 Fourteen young people along with five adults went on this trip.  The group consisted of Samuel Platt, and Felicia Fatu from the Mandurah Parish, Thomas Granger and Lauren Noonan from the Bunbury Parish, Tonya Jack, Georgina Haines, Aasha Haines, and Josephine Starr from the Dardanup Parish, Nicholas Piggott, Luz-Anne Van Diest and Benita Milicich from the Busselton Parish and Imogen Smith from the Australind Parish and Tahlee Maughan & Lauren Pronk from the Harvey Parish.   The adults accompanying these young people were Sarah Starr, Leanne Pronk, Father Jayan Johnson, Ian Haines and Sabrina Haines
The group was offered work in four different homes that were run by the Missionaries of Charity nuns.   Prem Dan (home of the sick and dying), Daya Dan (home of the handicapped) Shanti Dan (home for the rehabilitation of abandoned women) and Shishu Bhavan (home for abandoned babies and adoption babies).  Two people were also offered work with the sick and injured in Shishu Bhavan's medical centre and a remote village.  An adult accompanied each student group into these homes.
The following are excerpts from a typical day at work in Kolkatta:
Mrs Sabrina Haines, Tour Organiser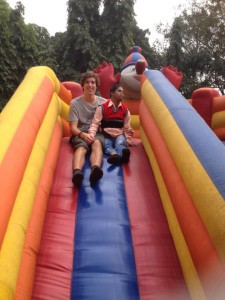 My group was sent to the home called "Shanti Dan".  "Shanti" means peace and "Dan" means gift of. So it was our role to share the gift of peace with the young women.   Our day began at 5:30am to catch a bus to get to Mother House to join in Mass with around 200 nuns of the Missionaries of Charity.  This was a really beautiful way to start the day with prayer and inspite of the hustling and bustling of Kolkata be ever grateful for what we have. "I can still hear the alleluia being sung by the nuns today" and it had profound effect on the rest of our day.  After mass we gathered with other volunteers from all over the world and shared in a cup of tea and a green banana.  All volunteers collectively embarked on their separate journeys from Mother House. 
Our group had to catch a bus in this busy city with hundreds of other travellers to our orphanage called Shanti Dan.  Shanti Dan was set in a semi-rural area and encompassed homes for the young women and homes for mums with HIV aids and their newborns.  We were allocated to work with the young women.  Our first job was to begin with the washing.  There were around 60 young women in our centre and the daily routine consisted of washing, rinsing and hanging up all the clothes used by the young women.  We washed tops, undergarments, blankets, pyjamas, doonas and cloth nappies. This task took around 2 hours each day.   Each piece of clothing had a specific area that it needed to be hung out.  Being able to speak the native language was a great asset as we were able to do exactly as the mothers instructed.  The 'mums' were the cursory names allocated by the nuns to the paid staff as they had unofficially been allocated some young women as their children.  The ratio was around 1 mum to 8 children. There just wasn't enough hands to complete the job and the volunteers were highly regarded as they made the "mums" jobs lighter.  
The children were placed into different rooms based on their level of disability.  I was allocated the "Butterfly" room. This room had young ladies with a sensory impairment in addition to mental disabilities.  My job was to in their native language (Bengali) assist them to complete puzzles, discuss photos of their families, encourage them to smell different spices and foods, and paint with them.  There was a schedule in each room of the tasks that needed to be done each day.  Once therapy was over it was nearly time for lunch for the young women.  I was required to either walk or push the wheelchair of each of the children under my care to their lunch area.  Then it was time to feed them lunch.  Some children ate with spoons, some ate with their hands and some were given food that was solid whilst others needed their food mashed.  I soon got the hang of this with asking the mums and the other volunteers that had been there for a longer time.  After lunch our job was to take the young women to bed.  This was quite a challenging time as a lot of the young women had to be changed into their sleepwear as everyone had an afternoon nap.  Quite often there were three or four volunteers trying to assist over 20 young women get into bed.  It was a challenge as we required two people to assist some of the young women into bed.  Some would soil their nappies and they needed to be cleaned prior to going to bed or a wet cloth nappy that needed to be changed.  The reward was watching the young women safely tucked into bed and then our shift would end.  We often returned home around 2-3pm and jumped into the shower and just tried to sleep for a while to recover.  In the evening we would go out shopping or headed out for dinner to different restaurants in the city.  This was our routine for over a week.
On Thursday volunteers were not allowed into the orphanage and we used that day for all of us to see the sights of Kolkata and Howrah.  We embarked on a boat trip across the Hoogly River which was considered a sacred river which spans over 260 kms.  The River was a hive of activity with people washing, rowing, swimming, praying and playing in the river.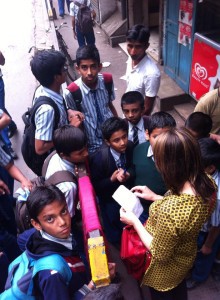 Before leaving for India I tried not to have too many expectations, knowing that it would not be like anywhere I'd been before. However because of stories I'd heard, there were still things I hoped for and feared. My main fear was that the orphanage would be too sad. After visiting on the first day and seeing so many orphaned children in such a small bare room, I was worried that this would be the case. Visiting Shishu Bhavan on the first day was an overwhelming experience for everyone in the group. I couldn't understand how such helpless and innocent disabled children could be seen as any less beautiful than I saw them after a single day.
The next day was our first day working at the orphanage and it made me realise I'd come to the wrong conclusion about the lives of the children there. I understood that they weren't unhappy but instead some of the happiest kids I'd met. None of them had a single personal possession but they didn't mind. They didn't have a loving biological family or a nice home or even go to school, and yet they found a way to be happy. They are proof that what makes a better standard of living is not what makes you happy.

---
 Our main purpose there as volunteers was to keep the children entertained and give them time and show them love. The workers there are busy keeping the children alive and healthy, fed and clothed so our job was to keep them happy with our time and attention. It's amazing how one of the most rewarding aspects of the whole experience was such a simple thing as putting a smile on a child's face.Tahlee Maughan Year 11 BCC
---
Working at an orphanage for disabled children in such a deprived and underprivileged country as India has opened my eyes up to a whole different world I'd never experienced before. The disabilities that the children were suffering from was at first very overwhelming and upsetting, but we were quickly able to look past this and realise that they were just ordinary, happy and beautiful children, each of them unique and endlessly loved by the nuns who had devoted their lives to care for them. These children, even though they had so little, were some of the happiest I've ever met. Something as small as a tickle or nuzzle would bring so much joy to the child, and their happiness was reflected back onto us. Every day I was inspired by these children, but more so the nuns and Massi's (women who were payed to care for the children as well as cook and clean) who lived and breathed for the sake of the disabled children. I was fortunate enough to speak to one of the Massi's who was only seventeen when she was sent to work in the orphanage to make money that was to be sent home to her family each month. For three continuous years she has lived and slept between the four walls of the orphanage with the children, the closest thing they have to a mother. Massi's devotion to these children was so inspirational and has motivated me to come back to India one day and continue my volunteer work. Even though we're home now, a big part of me is still in India, and I know this is not the end of the journey for me.   Lauren Pronk Year 11 BCC
---
Travelling to India was a once in a life time opportunity. Working at Mother Theresa's orphanage was truly an amazing experience that I will never forget and everyday was an absolute privilege and pleasure. The nuns , 'mothers' and other volunteers we worked alongside and grew to know were some of the most inspiring people I have ever met.
 I worked in the special needs section of the orphanage which had children aged between 5 years to 18years old. A day in the orphanage was about doing whatever we could do help out and consisted of feeding, changing nappies, washing, physiotherapy and playing with the children to both contact  and happiness to these disadvantaged and abandoned children.
India has a unique and interesting culture, the food, people and religion was amazing to look upon and savour. Whilst in India we visited the Taj Mahl for a sunrise tour, we visited the Golden temple and witnessed organised chaos of the serving of thousands of people a day. We went to the Amber Forts for a tour and elephant ride, and the palace in the Pink city. My experiences in India not only changed the way I view life and its fragility but has made me appreciate the 'essentials' of our daily life's such as access clean water, education, health and our homes.  Imogen Smith  BCC Year 11
---
Mr Ian Haines – Industrial Paramedic/Nurse
Due to my nursing background I was allocated to work in a medical rotation with my daughter Aasha Haines who wanted to work in the medical area of Shishu Bhavan.  Each day of work hosted a different speciality. One was general medicine day, neurology day, cardiology day, mother's babies and children day and a mental health day.  Our day began after mass by walking to our orphanage which was around a 10 minute walk.  This was the best time to be walking as the hustling and bustling town was still waking up. Our first task was to get out the specific medicine for that day and then the doors were opened with people who had scripts from their doctors.  If not, they would see the two nuns who were qualified doctors and had their scripts reviewed and then medicine was dispensed by us.  One day we went out to a remote village to work which was very challenging. We travelled in a big truck with all our supplies for over one hour to a remote village. During this journey the nuns said the rosary. There were over 500 people waiting to see us.  The volunteers were divided into three areas of dispensary and each of those areas had two volunteers and an interpreter. This was a long but very rewarding day.  Once our shift was over we returned back to Shishu Bhavan and waited for our lift back to the hotel.
---
Georgina Haines, Year 12, Bunbury Catholic College
I was sent to Shishu Bhavan. Shishu meaning child and Bhavan meaning home. Our day began with mass from 6 – 7 and then we walked in a group to greet our children. I was placed with the young children with disabilities. Their ages ranged from 2 years up to 10. Some of the immobile children were older but physically looked much younger than their age. Our floor was split into two sides, where one side was occupied by the more able children and the other side was were the children who were not able to move very much. The volunteers started the day with the immobile children, where we would sing a song for each child and then a few group songs such as the alphabet and the Indian version of Mary had a little lamb. After this, a few could go to the other side where would help a teacher who came in to engage the children with simple maths. For the whole morning till lunch time, we would play with the kids, change the odd dirty nappy and feed them morning tea. The volunteers got a 20-30 minutes break at 10, were the nuns gave us chai tea and biscuits. Around 12 o'clock all the volunteers and mothers fed the kids, and then got them changed into some comfortable clothes. Each child is then put to bed for an afternoon nap. We then helped mop floors and clean up the area. By this time it's about 1:30 and our shift was over.
---
Once we had finished our work in Kolkata our Immersion experience took us to Amritsar.  Here we visited the Golden Temple.  Being a holy temple we were asked to cover our heads and take our shoes off.  Once inside you are greeted by the majestic white marble that surrounds you.  The Golden Temple Amritsar India is not only a central religious place of the Sikhs, but also a symbol of human brotherhood and equality. Everybody, irrespective of cast, creed or race can seek spiritual solace and religious fulfilment without any hindrance. It is a matter of experience rather than description. In reality the Golden Temple itself is the shiny golden structure in the middle of the pond.   It is called the "Harmandir Sahib" the "Temple of God". The surrounding structures offered accommodation, prayer houses and an enormous kitchen.  Here it is estimated that more than 40,000 people a day are offered a free meal.  From here we visited the Jallianwala Bag which is a reminder of the Indian Independence struggle during the days of the British Rule.  An hour's drive from here is the Wagah border – here every evening is held the change of guards and lowering of the flag ceremony at sundown and it is a treat to watch both the Indian and Pakistani soldiers show off their stepping skills. From here we went to the famous city of Delhi onwards to our next destination by train to Jaipur.
Located in the historical state of Rajasthan which is known for its history, art and culture we embraced Jaipur.  This was the pink city and we were greeted by the Majestic Pink gates followed the famous "Hawa Mahal".  This is one of the most prominent tourist attractions in the city.  It is a five storey palace constructed in 1799 and is built out of red and pink limestone.  The main intention of the palace was to facilitate the royal women and to provide them with a view of everyday life through the windows as they never appeared in public.  The palace is 50 meters high. Our next location was the historical observatory called the "Jantar Mantar" "magic and formulas".   It had the world's largest Sundial.  This observatory consisted of 14 major geometric devices for measuring time, tracking constellations and even observing the orbits.  As we walked out from here we were greeted by Snake Charmers.  Some members of the crew were very brave and allowed some cobras to be wrapped around their necks.
The next day we were taken on a tour of the historical Fort of Jaipur.  This was amazing as the only way to travel up to the Fort was on elephants.  The elephants were majestic beautifully decorated and we felt like royalty.  We had a beautiful view of rugged hills that surrounded the palace and saw the unique gardens that were surrounded by a big lake.  In the afternoon we moved to our next destination Agra.
In Agra we were greeted by the immense cold.  The cold did not dent our spirits and we saw one of the wonders of the world the Taj Mahal.  Commissioned in 1632 by the Mughal emperor Shah Jahan to house the remains of his cherished wife, the Taj Mahal stands on the southern bank of the Yamuna River in Agra, India. The famed mausoleum complex, built over more than 20 years, is one of the most outstanding examples of Mughal architecture, which combined Indian, Persian and Islamic influences. There are four minarets around the tomb. Thousands of imported and local stone were imported from several countries to be put into this building which is a stunning symbol of India's rich history.
From here we flew to our next destination Bangalore.  Our primary purpose in this State was to visit a National Park. Bannerghatta National park.  This is a popular tourist destination with a zoo, a pet corner, an animal rescue centre, a butterfly enclosure, an aquarium, a snake house and a safari park.   It was exciting to see Royal Bengal Tigers and Bears sharing the same road as us.  We were also greeted by the awesome sight of a white royal Bengal tiger lazily staring at us.  This sadly was our last destination and from here we flew back home on the 22nd December 2014.